In a couple of days, we will say a big "ta-ta" to 2021 and usher in 2022. Your traditions might include watching the countdown to midnight, wearing the gaudiest hat you can find, and of course, giving someone you love a big kiss as the clock strikes twelve. But we all know there is at least one tradition that is truly synonymous with this holiday: an evening full of boozy beverages.
Holidays are the time of year when most people choose to indulge a bit and let go of their strict diets; New Year's is a part of that. But what if you could ring in the New Year with a healthy (or at least, healthier) cocktail version of the same drink you already love? Better yet, what if those healthy cocktails tasted even better than if you made it the old, tired way with that sugary mix you find at the grocery store? 
Let's talk about two of the most popular cocktails Americans love–and how you can transform them into not only more healthy cocktails but more delicious cocktails as well. 
A Healthier Margarita
This cocktail hardly needs any introduction. They are a little sweet, a little salty, and packed with flavor. No wonder a refreshing margarita is one of the most ordered cocktails in America!
There are many variations of this drink that use other fruit juices like strawberry or watermelon juice. These variations may also use different base liquors such as vodka instead of tequila. But for this healthy cocktail recipe, we will stick with a spin on the tried-and-true classic recipe. 
HEALTHIER MARGARITA INGREDIENTS
Coarsely ground sea salt (see recipe notes)
2 ounces of 100% blue agave tequila
1 ½ limes, juiced
½ an orange, juiced
A dash of agave nectar
INSTRUCTIONS
Line the rim of your glass with lime juice. Dip your margarita glass into a plate that has been covered with a thin layer of salt.
Add the tequila, lime juice, orange juice, and agave nectar to a cocktail shaker. Add ice. Shake for about 30 seconds.
Strain the liquid into your salt-rimmed glass and garnish with a lime wedge or orange peel.
Recipe Notes:
For the salt, we love this lime-infused choice from Florida Pure Sea Salt. 
For a healthy cocktail, your tequila should be made of 100% blue agave. Look for this on the label. If it isn't mentioned, it could be a sign that they've used other less-than-desirable ingredients in making it. 
Go easy on the sodium. Dipping the rim of your glass in just a light sprinkling of salt is best. 
Switch out the sugary mix for agave nectar. Tequila is made from agave, so agave syrup is the perfect swap for sugary mixes and even simple syrup.  
Use locally-sourced citrus whenever possible.
Healthier Martini
To add a spin on a martini to our healthy cocktails list, we will make a lemon drop. Sweet and sour, this citrus drink also gives just the right hint of sugar on the tongue.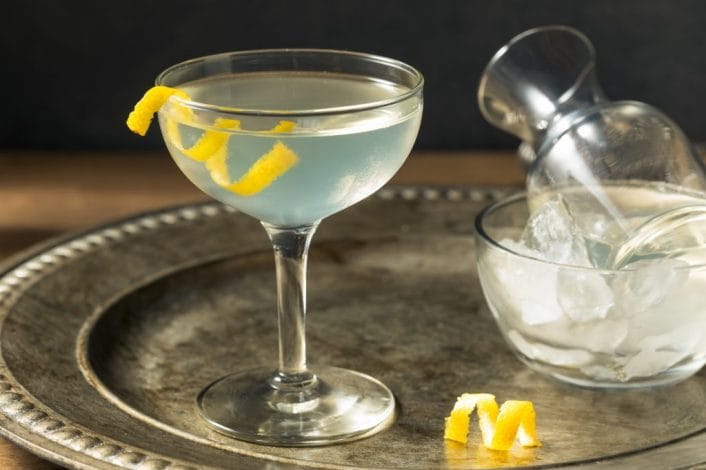 HEALTHIER MARTINI INGREDIENTS
3 tablespoons fresh lemon juice
2 ½ ounces vodka
1 tbsp monk fruit sweetener
Lemon-flavored sparkling water
INSTRUCTIONS
Add the lemon juice, vodka, and monk fruit sweetener to a shaker. Add ice to shaker.
Close the shaker and shake. It will take a minute or so for the monk fruit sweetener to dissolve.
Pour the mixture into a glass. Add sparkling lemon water to taste.
Garnish with lemon peel.
Recipe Notes:
The juiciest lemons are not the pretty ones. Look for those that give a little when you squeeze them. Most will yield 2-3 tablespoons.
Monk fruit is an excellent choice of sweetener. It doesn't affect blood glucose levels, and it's The Pickled Beet's go-to sweetener for our desserts.
Vodka is a good choice of spirits for those on a diet, as it is lower in calories and on congeners (other ingredients produced during the fermentation process that can sometimes cause hangovers).
The Pickled Beet's Signature Grapefruit Cocktail
While a sweet drink is nice, a tart cocktail can be even better. And this grapefruit drink makes not only a phenomenal addition to our healthy cocktails list; it provides a bit of tartness for those of you that have less of a sweet tooth. 
The health benefits of grapefruit are vast, including antioxidant powers, supporting a healthy heart, helping manage blood sugar levels, and even supporting weight loss goals. While we recommend your intake of grapefruit be overwhelmingly without the alcohol, we can't think of a more healthy cocktail to ring in the new year.
THE PICKLED BEET'S GRAPEFRUIT COCKTAIL INGREDIENTS
3 ounces vodka
2 ounces fresh grapefruit juice
2 ounces fresh lime juice
2 ounces sparkling spring water
INSTRUCTIONS
Add vodka and juices to the shaker. Add ice to the shaker and give a gentle shake.
Pour the mixture into a glass.
Top off with carbonated water.
Recipe Notes:
You can vary the amounts to get to whatever level of sweetness you desire.
Have you resolved to eat food that is healthier (and tastier!) in the new year? We would toast to that!
If you live in the Miami-Dade, Broward, or Palm Beach County region, look no farther than The Pickled Beet. We provide tasty, nutritious meals that are 100% customized for our clients. We know food is medicine and we specialize in dishes that conform to restrictive diets such as vegan, gluten-free, dairy-free, and many others. Professional athletes love our meals for helping them with their weight loss, weight gain, and wellness goals. And for everyone else? We simply help you eat healthier and save time.
[/et_pb_text][/et_pb_column][/et_pb_row][/et_pb_section]