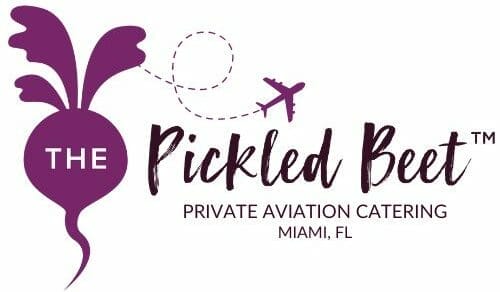 Customized Private Flight Catering in the Miami Area
When your guests take flight, they expect the same level of quality and service they're accustomed to at home and throughout their business endeavors. The Pickled Beet helps you provide a customized elevated dining experience that is sure to exceed their expectations.
In just minutes, you can choose from a full menu of fine dining cuisine that our chefs can customize to accommodate any taste preferences or dietary restrictions. We can help your guests stick to their healthy lifestyle mid-flight, entertain their family or business partners, or even just serve up a taste of home at 40,000+ feet.  
Every menu item is carefully crafted sourcing only the freshest local organic ingredients, conveniently packaged, and delivered right to you before take-off. Your guests will enjoy a taste of what South Florida has to offer including fresh, wild caught fish, vibrant organic soups and salads, and bright citrus flavors.
Looking for something special on our menu? The sky's the limit! Contact us to speak with our executive chef to see how we can curate a one-of-a-kind, customized experience.
In-Flight Dining Available at These South Florida Airports
(MIA) Miami International Airport — Miami, FL
(FLL) Fort Lauderdale–Hollywood International Airport — Ft. Lauderdale, FL
(FXE) Fort Lauderdale Executive Airport — Ft. Lauderdale, FL
(OPF) Miami Opa-locka Executive Airport — Opa-locka, FL
(TMB) Miami Executive Airport — Miami, FL
(HWO) North Perry Airport — Pembroke Pines, FL
Partner with our culinary team on your next flight from Miami and see how your next-level service can soar!
Place Your Private In-Flight Catering Order in the Form Below
After you submit your form, we will reach out to you to discuss delivery details and any special accommodations requested for your service. If you have questions, please call (305) 388-3536 or email customerservice@thepickledbeet.com with the subject line "In-Flight Catering."
Cancellations within 48 hours of service may be partially refunded, depending on the grocery purchases that have already been made. No refunds for cancellations within 24 hours of service time. No refund is available on orders of custom cakes, pastries, or specialty items not included on the in-flight catering menu.
Customization and Quality Take Time
All of our in-flight orders are 100% customized and made fresh. We request at least 48 hours' notice for any in-flight catering orders.