Customized Personal Chef Services in the Miami Area
Customized Personal Chef Services in the Miami Area.
At The Pickled Beet®, every dish starts with you.
Luxury Personal Chef Services
Whether you live in South Florida year-round, split your time between homes, or visit for vacations or medical treatments, it can be challenging to find fresh, quality meals that truly fit your tastes, lifestyle, and dietary requirements. Assembly-line meal services abound, but they lack the high standards, flavor profiles, and customization you need. Daily, in-home chefs are an option, but they can be intrusive on your privacy and personal life.
At The Pickled Beet, we have provided personalized culinary services since 2006, and we are the most experienced and accommodating personal chef service in the Miami area. Our professional chefs specialize in preparing fresh, flavorful dishes – made with organic, premium, whole food ingredients – that are 100% tailored to your specific needs and preferences.
Our award-winning personal chef services include:
Weekly personalized chef services, accommodating each family member, no matter their dietary needs or preferences

Private chef experiences
WHAT MAKES OUR PERSONAL CHEF SERVICES SO DIFFERENT?
During our 17 years in business, we have seen the power of good food serving as good medicine. We specialize in working with clients who value the role food plays in fighting disease, maintaining wellness, and averting potential health issues.
Our recipe for success is the right blend of experienced chefs, a 100% personalized approach, and fresh, organic, premium ingredients. Every dish starts with freshly harvested ingredients from organic farmers, fish that was caught last night by local South Florida fishermen, and grass-fed beef and lamb flown in from small American family ranches. We also operate out of our very own, dedicated gluten-free commercial kitchen.
100% Personalized Dishes and Menus
We customize every meal and menu, for each family member. When we say 100% personalized chef services, we mean it.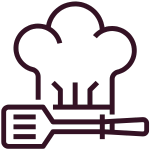 Skilled, Experienced, Professional Chefs
Our talented team of chefs have decades of experience in crafting gourmet meals across a wide variety of cuisines.
Fresh, Whole, Premium, Nutrient-Dense Ingredients
We use organic poultry and produce, grass-fed beef and lamb, wild-caught seafood, and Berkshire pork.
Food Allergy and Dietary Needs Specialists
A Repertoire of 3,000+ Tested Recipes
We prepare dishes from around the world and don't repeat an entrée within 3 months, unless requested to do so.
Real People, Real Chefs, and We Make It Real Easy
Clients get to talk or email directly with their lead chef. And we make it easy to get started by not requiring a contract.
WHAT OUR PERSONAL CHEF CLIENTS SAY
"The food is incredibly healthy, delicious, and most importantly, we don't feel like we are missing out on any of the ingredients we can't have. We look forward to every meal."
– Sara R.
"I've tried countless personal chef services in South Florida. The Pickled Beet is the best! It's like having a private chef. I feel so spoiled."
– Pushpa G.
"It's been six weeks since they started cooking for my family and I've lowered my cholesterol from 235 to 165 and lost 15 pounds!"
– Marisol E.
"Not only do I get delicious and healthy food that helps manage my dietary needs, but it also helps manage my time."
– Jenny B.
"The best customized chef service I've found in Miami after trying many – delicious healthy food, tailor made, clean ingredients and well organized."
– Driss B.
"The Pickled Beet is a great solution when you want to outsource the time and effort that goes into planning and preparing healthy meals. You can tell them your dietary goals, and they will even adhere to a given amount of daily calories!"
– Christopher P.
"Incredibly well-rounded service, ranging from the quality of the ingredients, the creativity of the meal ideas, the execution of the dishes, and the highly attentive and kind customer service."
– Mail H.
"What a great help for me during my pregnancy! The Pickled Beet made sure I got plenty of nutritious food and worked with me to gain the appropriate weight recommended by my doctors."
– Eva
What Special Dietary Needs and Food Allergies Can Our Personal Chefs Accommodate?
New clients at The Pickled Beet are often surprised to learn that no food issues or special requests phase us. Rather than running from these "challenges," as many chefs do, we embrace them. And we have since 2006. Why? Because we firmly believe no one should have to live without delicious food.
Ready to Hire a Personal Chef? Here's How Our Process Works
CONSULT
Our process starts with you filling out our food questionnaire. Next, we'll schedule a consultation call.
PLAN
Based on your consult, we will design your personalized menu plan and present it to you for review.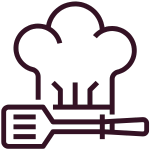 COOK
Our chefs will cook for you 2-3 times per week in our kitchen and deliver fresh meals on scheduled days
STEP 1: CONSULT
To get started, fill out our food questionnaire, so we can learn more about your unique preferences, likes and dislikes, food allergies, sensitivities, dietary requirements, medical diagnoses, and goals. Next, we'll schedule a consultation call to review your questionnaire, answer any questions, and learn more.
We cannot provide a proposal until we have completed this step. Our pricing includes chef services, packaging and delivery + grocery/ingredient costs.
STEP 2: PLAN
Based on your food questionnaire and consultation, we will design your personalized menu plan and present it to you for review. We'll answer any questions, make any edits, then get final approval before ordering your fresh ingredients and preparing your customized dishes.

STEP 3: COOK
Based on your tailored plan, our chefs will cook for you 2 to 3 times per week in our off-site commercial kitchen. On your scheduled days, we'll prepare your fresh meals and package them in BPA-free oven-safe containers (labeled clearly, with easy heating instructions) and deliver to your location of choice in South Florida. We'll discuss any feedback or new special requests and then create your next week's personalized menu.
Who Uses Our Personal Chef Services?
Our clients enjoy the luxury of gourmet chef services combined with the convenience and privacy of delivery. They also value the link between good food and good health.
Typically, they fall into one or more of the categories below:
Those with
Food Allergies, Sensitivities, and/or Autoimmune Disorders
Many of our clients come to us newly diagnosed with food allergies, autoimmune disorders, or other chronic issues. They may have been told by their doctor or nutritionist to try a Low FODMAP diet, avoid a long list of food allergens, try an elimination diet, eat a low cholesterol diet, or follow a specific regimen for ALS, RA, Hashimoto's, MS, Celiac disease, or others.
If you need to make major changes to your diet but don't want to face a life of tasteless food, you're in the right place. The Pickled Beet is an experienced culinary partner who will help take the confusion and stress out of any special diet.
Eating for Health and Wellness
Others come to us because they value quality cuisine and either want to maintain their health or prevent issues that would impact it.
Busy Professionals
From single jet setters to bustling families to empty nesters, our clients appreciate our level of service and how we accommodate those with busy lives, even those who have schedules that may change from week-to-week.
Recovering from Illness or Surgery
Whether recovering from a serious illness or recent surgery, we help those who are in the recovery stage. Our team can consult with your health care professional to create the best diet to encourage optimal healing.
Visiting South Florida for Medical Treatments
South Florida is home to many groundbreaking medical treatment centers, such as those for ALS, cancer treatment, and organ transplantation. For those traveling from out of state for treatment, we remove the stress of finding the right meals to accommodate their dietary restrictions.⁠ Our team hand-delivers fresh, customized dishes right to each client's hotel, vacation home, or AirBnb when they are in town.⁠
Weight Management
For those looking to lose weight or maintain their weight, we can help you enjoy delicious food and find success on your journey.
Pregnant or Postpartum
Whether a special pregnancy or postpartum diet is needed or parents simply need help with meals as they adjust to this new chapter of life, we are experienced in preparing delicious, nourishing, diverse and balanced meals for an expectant mom or new mom and family
Athletes
We can accommodate the strict dietary needs of professional and semi-professional athletes as well as work with any work and travel schedule, no matter how tricky it may seem. We are happy to consult with your personal trainer or nutritionist to create a meal plan for optimal performance. We also serve visiting athletes who are in South Florida for the off-season or to train in the area.
Our food is delicious; that's why our clients stick with us for years, and we don't require a contract.
We take the time to listen, understand, and formulate 100% personalized menus and dishes, for each family member. 
We have provided personalized culinary services in the Miami area since 2006, and we are the most experienced and accommodating gourmet chef service in South Florida.
Eating well isn't an expense, it's an investment in a healthy future.
Most families have 7 recipes in their repertoire – we have 3,000.
When you remove inflammatory foods from your diet, you'll lose weight without counting calories.
Your standards are high. Ours are too.
How Our Personal Chef Pricing Works
Everything about our service is personalized for each client, including the number of meals we prepare each week, which meals we prepare (breakfast? lunch? dinner? more?), and whether each family member needs a unique menu or not.
Provided below are a few sample options. Since your weekly menu is completely customized down to the grocery selections, food restrictions, and delivery range, we can't provide your quote without learning more about and discussing your specific needs.
As a general rule, expect your meals to cost what you'd expect to pay in a high-end restaurant. The difference is that your meals are 100% customized and prepared using only fresh, organic ingredients and healthy cooking methods — not the way most restaurant meals are prepared. And you get to skip the traffic!
Please take 5 minutes to fill out our FOOD QUESTIONNAIRE and then schedule your free consultation with our executive chef, so we can give you an accurate price quote.
Have questions and want to talk to us right away? Please call us at 305-388-3536.
SAMPLE PERSONAL CHEF OPTIONS AND PRICING
8 Meals for 1-2 People
Does not include the cost of groceries/ingredients.
6 Meals for 3-4 People
Does not include the cost of groceries/ingredients.
10 Meals for 2 People
Does not include the cost of groceries/ingredients.
Frequently Asked Questions
What kind of food do you cook?
A variety of cuisines including Italian, Mediterranean, Mexican, Thai, Cuban, Chinese, American, Spanish, Greek, Middle Eastern, and more. All menus are custom designed for you every service.
When will I get my food?
Meals are delivered in the afternoon from 12-6 depending on where you live.
Will the food taste fresh?
Yes! We start every recipe with the freshest, highest-quality ingredients. When you heat them, they'll taste like they were just cooked.
Are the meals frozen?
No! In most cases, the meals are stored in your refrigerator. Many of them can be successfully frozen if that's your preference.
What if I don't like the food?
Because we have thousands of time-tested recipes, it's extremely rare for a client to be dissatisfied with the food. If you are, however, you're not locked into a long-term contract.
What's the difference between a personal and private chef?
Personal chefs prepare food for a number of clients while private chefs typically are the full-time employee of one client.
CLICK BELOW IF YOU'RE OUTSIDE OUR SERVICE AREA AND WOULD LIKE TO CONSULT WITH OUR EXECUTIVE CHEF ABOUT YOUR DIETARY NEEDS