We're a dedicated team of culinary professionals passionate about using food as medicine.
GET TO KNOW US
We are a dedicated team of culinary professionals who are committed to helping you heal yourself through food.
Any Chef Can Cook A Great Tasting Meal
At The Pickled Beet, we take that a step farther by providing nourishing, 5-star restaurant quality dishes that help our clients live their best lives. For some, it's helping them overcome an autoimmune disorder, keep their diabetes in check, or navigate the nutritional deficiencies of cancer treatments. For others, it's being able to spend more quality time with their loved ones gathered around a meal curated especially for them. 
It's our mission to help you heal through food, expertly accommodating even the most severe food allergies and medical maladies with delicious meals that are customized to your needs in our Celiac-safe kitchen.
We believe that every dining experience should be a memorable one. Through thoughtful planning and our "Food Is Medicine" philosophy, our culinary experts customize every dish to you, to accommodate any dietary restrictions, and ensure you absolutely love every element of your menu.
We help you focus on what's most important in life through tailored weekly personal chef services that deliver freshly prepared organic meals right to your home or office. We also offer personalized services through luxury private event and holiday catering, in-flight private aviation catering, and semi-private chef experiences.
Our masterful fine-dining chefs carefully source the best organic, wild-caught, and grass-fed ingredients, then plan unique, personalized menus for every client, every week. You can rest assured that your meals are prepared exclusively for you and held to the highest standards in Miami.
We believe variety is the spice of life, and we're here to create a vibrant, flavorful culinary experience customized to your needs and the foods you love.
You can begin enjoying Michelin-level meals in as little as 15 minutes with our ovenable containers and effortless heating instructions.
We create the experience of a 5-star private chef that allows you to dine with elegance right at home.
Discover new flavors, pay homage to family recipes, or indulge in artisan-inspired dishes without having to plan, prep, or cook a thing. Our professional chefs take care of everything so you can have the luxury of your time back.
Our team is the most experienced in Miami at customizing meals to accommodate food allergies, medical maladies, and dietary restrictions for absolutely any protocol, lifestyle, or even just flavor preferences.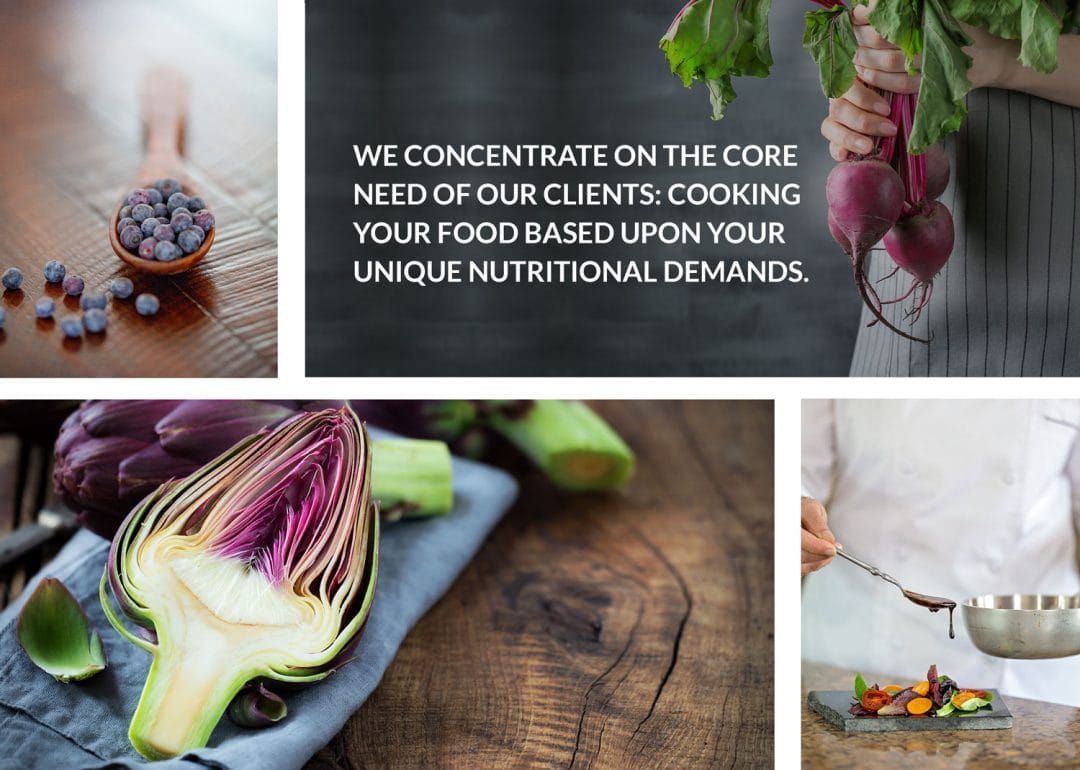 Our Success is Measured by the Number of Lives We Change
I grew up in an Italian Irish family, so food has always been my epicenter. When I decided I wanted to step away from my executive corporate job more than 17 years ago, founding a personal chef company was a natural transition.
I named the company Lucia's, after my great grandmother who inspired my love of cooking and taught me how using the freshest, highest-quality ingredients can transform even the most humble dish.
In 2017, I was diagnosed with the autoimmune disorder, Hashimoto's Thyroiditis. I started working with a functional medicine practitioner and the first thing he did was change my diet. We eliminated gluten, dairy, soy, and any ingredient I had a sensitivity to and the result was astounding.
Within weeks, I was feeling like my old self again and had more energy, growing back my hair, and experiencing more restful nights. I knew at this point, that I had found a truly unique "medicine" that I wanted to share with others.
 I founded The Pickled Beet to help you live your best life by nourishing your body with exactly what it needs while still preparing delicious meals that you and your family can enjoy. Whether you're healthy and want to stay that way, you've been diagnosed recently with a disease, or you are struggling with food allergies or sensitivities, we can help. It starts with a unique weekly menu created for each and every client.
I've assembled an experienced, expert team of professional chefs who scratch-cook every meal in our dedicated gluten-free kitchen. And, we've partnered with medical and nutrition experts who provide a holistic approach to meal planning that ensures your food doesn't just taste great – it's great for you. In our company, we measure success not by the dollars in our bank account, but in the number of lives we change. It's our mission to help as many people as we can.
I hope you'll give us a try.
WANT TO JOIN OUR OUTSTANDING
CULINARY TEAM?
Frequently Asked Questions
What types of cuisine or lifestyles do you specialize in?
Our professional chefs have been cooking in fine-dining establishments such as Ortanique, Chef Adrianne's Vineyard Restaurant and Bar, and Fleming's Steakhouse for decades, so we are familiar with every type of cuisine imaginable. You can visit our Services page to discover the different diets we are well-versed in, or our Food Sensitivities page to learn how we customize every element of your menu.
I don't need a special diet or "healthy" food; I just want food that tastes good. Will you cook the foods I love?
Absolutely. Our culinary services are custom-tailored to your high expectations of your unique dining experience. Whether you want grilled wild-caught salmon with roasted organic vegetables or grass-fed meatloaf and mashed potatoes with herb butter, we can accommodate your tastes and the types of meals you love to eat. Since we prioritize organic and sustainably sourced ingredients, our meals are always nutritious, satisfying, and packed with incredible flavor, no matter what's on the menu.
My doctor/nutritionist has prescribed a specific diet for me. Can you prepare meals to adhere to my protocol?
Yes! Our chefs and meal planning experts have more than 17 years of experience planning and preparing meals to address medical issues, weight loss plans, athletic programs, food sensitivities, or extreme food allergies.
Will you come to my house and cook and serve all of my meals every day?
Currently we do not offer that service on a daily basis, however our concierge personal chef service allows you to have fully prepared meals delivered right to your home that can be ready in as little as 15 minutes! The meals are delivered fresh in ovenable containers, making cleanup a breeze. We craft fully customized breakfasts, lunches, dinners, and snacks, and even offer travel-friendly meals, fresh juices, desserts, smoothies, bone broths, and more! 
For special meals and celebrations, we offer in-home (or drop-off) private chef experiences and catering. 
Will you send a chef to prepare food in our vacation home?
Yes, we can send a private chef or a team to prepare a one-of-a-kind meal in your vacation home or rental.
Want the dining experience but not the chef? We provide unforgettable customized catering spreads that can be hand-delivered to your vacation home, rental, or marina with our drop-off service. Our chefs can prepare the perfect menu items to make your day or weekend on the boat, beach, or waterfront property one to remember. Visit our Catering page to learn more and view our seasonal menus.