Imagine living in a world where a poison has infiltrated the world's food sources everywhere outside your very own fridge and pantry. The most terrifying part: you're not sure where this poison is found, and no one else seems to share your concerns.
Life goes on as normal – holidays, corporate events, social and philanthropic gatherings – but every time you arrive, you're not sure if the food being served is poisoned. You scan the table, analyze the offerings, even ask others if the food appears to be poisoned, yet you still can't be sure. One wrong bite could send you into excruciating discomfort, severe illness, or even result in critical hospitalization. 
The uncertainty sets in, then the anxiety… and soon you determine that it's not even worth leaving your house for fear of poison lurking everywhere you go. 
This is what it's like to live with Celiac Disease and gluten intolerance. The poison – gluten.
As the general population becomes more aware of how food can affect their overall health, more people are choosing to actively discover what food sensitivities and intolerances they may have that can contribute to autoimmune disorders and chronic illness down the road. As functional medical practitioners, food sensitivity kits, and restrictive diets are growing in popularity, The Pickled Beet, a culinary innovator in South Florida, already has the extensive knowledge and experience to help our clients achieve optimal levels of health – food sensitivities or not.
Understanding Our Gluten-Free Clients
While The Pickled Beet has historically been recognized for our emphasis on organic ingredients, sustainability values, and unrivaled customization, we're now providing a new level of safety, service, and restorative culinary expertise by opening Miami's first-ever dedicated gluten-free kitchen in the Fall of 2022.
"I've been gluten-free since June 2017 and I understand how difficult it is to fit into the rest of the world," explains The Pickled Beet's founder, owner, and culinary medicine guru, Chef Elizabeth Willard. 
"I don't want to have to cook all of my meals all the time, but it's difficult to go to restaurants, research menus in advance, and then have to play '20-Questions' with the waiter every time I want to enjoy a high-quality meal. I simply can't feel confident that what I'm getting doesn't contain gluten. If it's this hard for me, I can't imagine how hard it is for people with Celiac to navigate through life. We're going to change that once and for all for our clients."
While the new kitchen will be a strictly dedicated gluten-free space, our clients who do not have food restrictions will still enjoy delicious 5-star meals prepared in the kitchen that coincidentally, will also not be prepared with ingredients containing gluten.
"Because we use whole, high-quality ingredients anyway, most people's meals are already gluten-free or very easy to make gluten-free without sacrificing flavor, palatability, or quality," says Chef Liz.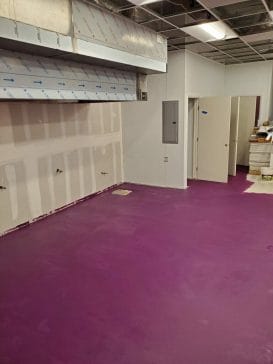 Thoughtful Design Beyond the Meals
The Pickled Beet's new kitchen was custom-designed to maximize workflow efficiency for our fine-dining chefs and cooking staff, making their work more enjoyable and minimizing the number of steps needed to deliver meals from their fresh state, to a scratch-cooked packaged meal. The space will feature a meticulously planned walk-in cooler to maximize organization, a cooling operation to preserve the freshness of meals during the packaging process, and a storage loft to store BPA-fee containers that clients can put right in the oven to have their meals heated and on the table in under 30-minutes.
"We're going from a Volkswagen Beetle to a Mazzerati in terms of how our kitchen will be able to run," predicts Chef Liz.
Environmental conservation was considered through the design process and kitchen construction evident in the LED lighting, low-flow high-efficiency plumbing, and enhanced energy efficiency through insulation. State-of-the-art kitchen appliances conserve additional energy, while The Pickled Beet's dishwasher will only use one gallon of water per load (a fraction of the water used in traditional hand washing stations.)
The Pickled Beet anticipates that we will be able to more than double our meal capacity in the new gluten-free space, and have incorporated administrative offices adjacent to the kitchen area. Now, Client Concierge will be able to communicate with chefs even faster to accommodate menu adjustments and client requests to ensure their meals are precisely what they expect.
How It Started… and How It's Going…
The Pickled Beet was founded in May 2006 under the name Lucia's Personal Chef Service, named after Chef Liz's Italian great grandmother who taught her the importance of using quality ingredients and cooking from scratch. Chef Liz initially cooked for her clients exclusively in their own homes and saw an opportunity to create a personal chef service that was different from the others in Miami. She focused on organic ingredients at a time when no one talked about them, and provided more gourmet, scratch-made restaurant-quality dishes than her competition. The quality of The Pickled Beet's meals were, and still are to this day, unmatched in taste, value, and exceptional quality of ingredients.
In June of 2018, Chef Liz rebranded the company as The Pickled Beet after working with a functional medical practitioner to resolve some of her own food intolerances and health concerns. She had a revelation about the incredible impact food can have on a person's overall health and made the decision to move her company to a commercial kitchen to help as many people as possible transform their own lives. The company began to grow.
In 2019, The Pickled Beet team began looking for a new kitchen to purchase, but were unable to find a contender that met their high standards for health safety, design, and functionality. Finally in 2021 Chef Liz purchased a warehouse as her visionary canvas and began designing a gluten-free kitchen tailored specifically for The Pickled Beet. Construction began in early 2022 and the highly anticipated gluten-free space will be open this Fall for the oldest personal chef service in Miami to begin scheduling special catering and regular client menus in time for the Holiday Season. 
Going Gluten-Free? We Can Help.
New clients can email chefliz@thepickledbeet.com to inquire about gluten-free chef services, or call 305-388-3536 to learn how to start building their custom menu.