At The Pickled Beet, We Set a New Standard for Gourmet Chef Services
You deserve an elevated culinary experience that fits your personal needs and lifestyle. You have uncompromising standards and high expectations; and so do we.  Our hand-crafted meals are uniquely prepared to nourish, heal, and make the "everyday" more enjoyable.
At The Pickled Beet, every dish starts with freshly harvested ingredients from organic farmers, fish that was caught last night by local South Florida fishermen, and grass-fed beef and lamb flown in from small American family ranches.
You're a Unique Individual. We Believe Your Meals Should Be Too
That's why when we design your chef experiences, it's all about you. It's why every meal is thoughtfully sourced, prepared based on your precise specifications and lifestyle, and packaged and delivered to your home or business multiple times each week according to your schedule. 
We understand how difficult life can be when you are faced with the challenges of living with severe food allergies, sensitivities, or medical conditions that require strict protocols. We can accommodate any diet or lifestyle, such as: Celiac, Anti-Inflammatory, Alkaline, Keto, Paleo, Vegan, Mediterranean, Postpartum, Autoimmune Protocol, Low FODMAP, Weight Loss, and more.
We Deliver Food as Medicine
The Pickled Beet is NOT an assembly-line meal prep production company. Each week our professional chefs design a completely personalized menu for each individual client. You approve your meals, flavors, and ingredients, or request your favorite dishes based on what you're craving, how you're feeling, or your interest in trying a new type of cuisine. Our chefs get to know you so we can make sure your favorite meals end up on your dinner table every week.
We are one of Miami's most highly acclaimed gourmet chef services, and have been delivering our award-winning meals to busy individuals and families in South Florida for 17  years. We're also one of the only chef services in Miami who have the culinary knowledge and extensive experience to help you navigate medical issues or retain your good health. We partner with medical professionals to further your health goals by designing meals based on your nutritional needs.
Whether your goal is to heal through food, maintain a healthy lifestyle, or prioritize nutrition to prevent illness or future conditions, our team can guide you on your mission to live your very best life.
WHY OUR CLIENTS CHOOSE THE PICKLED BEET
"Highly recommend The Pickled Beet. Incredibly well-rounded service, ranging from the quality of the ingredients, the creativity of the meal ideas, the execution of the dishes, and the highly attentive and kind customer service. Perfect for people seeking clean (regarding both hygiene and health) meals that feel homemade and support your lifestyle goals. Has all the benefits of a private chef without the hustle of lending out your kitchen space. Glad I found The Pickled Beet and that it's local. Love it!" Michel W.
"Delicious meals made with quality ingredients. You can really taste the difference! Impeccable service from start to finish for those who value good healthy food without the hassle of preparing it." Ekaterina S. 
"Our personal chef at The Pickled Beet pays strict attention to our dietary needs and continually comes up with new additions to our old favorites!" Nadine B.
"The Pickled Beet is AMAZING! Food quality is exceptional from a very professional business that focuses on healthy, organic food with remarkable flavor. I highly recommend them!" Lisa P.
"The Pickled Beet is always so creative. Their chefs extract flavors from food and dishes like no other. From preparing delicious and weekly tasty dinners for a few, to gatherings of 20 to 30, special parties and even tailgating food that is both good to the taste buds AND good for the body, they never disappoint." Clinton P.
THE PICKLED BEET GOURMET CHEF SERVICES
PERSONAL CHEF SERVICES
100% personalized menus and dishes prepared based on each family member's tastes, preferences, and dietary needs.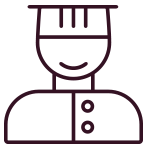 PRIVATE CHEF EXPERIENCES
Our private chef experiences and catering are 100% tailored to you, your guests, and your special occasion.
IN-FLIGHT CATERING
We help  private and corporate flight crews deliver an unforgettable culinary experience at 40,000+ feet. ⁠
ARE YOU READY TO ELEVATE YOUR LIFESTYLE?
HIGHLY-ACCLAIMED CHEF SERVICES
TOP 100 FLORIDA BUSINESS
The Pickled Beet is the only culinary services company in Florida among The Women's Edge 2023 Top 100 Women-Led Businesses.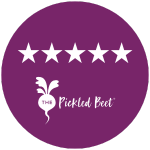 5-STAR CLIENT REVIEWS
Our clients' feedback over the years speaks volumes. The Pickled Beet has consistently earned 5.0/5.0 reviews on Google and more.
BEST PERSONAL CHEF IN MIAMI
The Pickled Beet has qualified and ranked among the top personal chefs in Miami by Expertise.com for the past five years in a row. ⁠
CONNECT WITH THE PICKLED BEET
Follow us on our social media channels to keep up with the latest at The Pickled Beet and see how our culinary services enable our clients to have more time, better overall health, and a stress-free dining experience.
Frequently Asked Questions
What South Florida cities does The Pickled Beet serve?
Miami, Pinecrest, Coral Gables, South Miami, Coconut Grove, Key Biscayne, Downtown Miami, Brickell, Midtown, Palmetto Bay, Cutler Bay, Homestead, Doral, Miami Beach, Hollywood, Fort Lauderdale, Kendall, Wilton Manor, Weston, Boynton Beach, Jupiter, Stuart, and Palm Beach Gardens.
Don't see your city listed? Call us at 305-388-3536 to see what we can do.
What kind of food do you cook?
If you crave it, we can cook it.
Click here
to view our sample menus and get a sense of how we cook for a variety of lifestyles and restriction diets.
Our professional chefs are experts in a variety of cuisines including Italian, Mediterranean, Mexican, Thai, Cuban, Chinese, American, Spanish, Greek, Middle Eastern, and more. All menus are custom designed for you every service.
Do you really use organic ingredients?
Yes! We start every recipe with the freshest, highest-quality ingredients. When you heat your meals, they'll taste like they just came out of the oven. 
We believe better ingredients translate to better nutrition, and even better flavor. We care about the quality of the food our clients eat each week, so all of our ingredients are organic, grass-fed, wild-caught, and even local to Florida whenever possible.
Are the meals frozen?
Never! In most cases, the meals are meant to be stored in your refrigerator until mealtime. Many of them can be successfully frozen if that's your preference.
Will you cook my family's favorite recipes?
Sure! This is a customized service that we're happy to accommodate, especially around the holidays or when family is in town. Our culinary team designs your weekly menu based on the flavors of your favorite meals, so we're happy to include recipes you know and love.
I already have a nutritionist or medical team supervising my diet. How do you fit in?
We can partner with your existing medical team to design a meal service that complements your treatment, diagnosis protocol, or health goal.
Do you cook in my kitchen?
For our private chef catering services, we offer in-home preparation and service. For our weekly personal chef services, we used to cook in client's homes, but we found that the majority of clients didn't want us camping out in their kitchen for 5-6 hours every week to prepare their meals. Now, we cook in our very own, brand new, dedicated gluten-free commercial kitchen! We are the only company we know of in Miami that can provide this level of safety and quality for our clients with Celiac Disease or suffering from severe food allergies.
Contact us if you're in-town! You're always welcome to come by for a visit.
How much does a personal chef cost?
View our
Personal Chef Services
page to discover our base pricing for a variety of service options. While meal prep services give you a blanket price quote that doesn't include their delivery or hidden fees, we take time to do things differently so there are no surprises.
Take 5 minutes to fill out our food questionnaire and we'll start on your personalized quote right away to discuss during your free consultation.
Since your weekly service is completely customized down to the grocery selection, food restrictions, and delivery range, we can give you a much more accurate price quote during your call with our executive chef.